8/7/2020
It has been 2 months since the office reopened amid the COVID-19 pandemic. I am pleased to have all of my regular clients on the schedule and those new clients that have become regulars as well. Online booking is available to ALL clients, or if you prefer you can call or email to schedule a massage appointment. Please take the time to read all of the COVID-19 office policies that are in effect before scheduling an appointment to be sure you are willing to comply. Cloth face coverings are required throughout the duration of the massage, as well as entering and exiting the office. Accommodations will be made when face down. A disposable face mask will be provided if you do not have one. I want to remain open throughout this pandemic and following all of the State of NH and CDC guidelines is the best way to try to accomplish that. I truly appreciate your understanding and cooperation!
6/1/2020
**OFFICE IS RE-OPENING JUNE 8TH**

I am VERY PLEASED to announce that the office will be back in business after 12 weeks of being closed due to the COVID-19 pandemic! The following are CLIENT & THERAPIST REQUIREMENTS that have been implemented in order to safeguard against the spread of the Coronavirus while providing massage therapy services in the office. These protocols are following the CDC and the State of New Hampshire guidelines and will remain effective until further notice. PLEASE familiarize yourself with all of the requirements and do not hesitate to contact the office with any questions you may have prior to booking an appointment.
THANK YOU for your understanding, cooperation and most of all, your support and patience.
Just a few additional messages:
Online booking & new client appointments are not available at this time. This is to prioritize the rescheduling of clients that were on the books for the past 3 months. THIS IS ONLY TEMPORARY and should resume by Friday June 5th.

Walk-ins for gift certificates will not be available. You may conveniently purchase a gift certificate online for your convenience.

Health intake form & waiver must be filled out and current (dated 6/2/20 or later) prior to your massage.

Online prepayment for an appointment is available but NOT REQUIRED.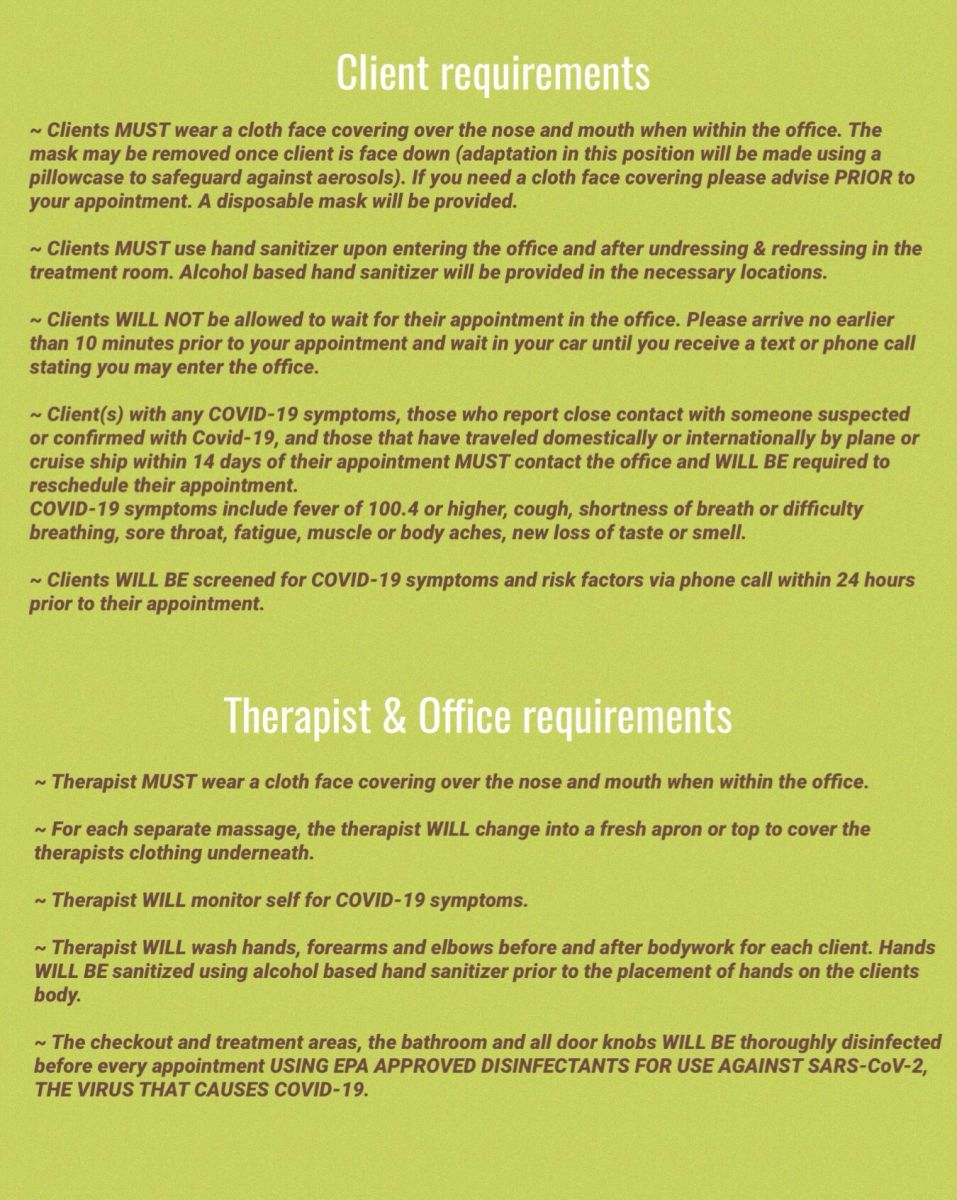 5/4/2020
**OFFICE REMAINS CLOSED THROUGH MAY**
I hope this message finds you and your loved ones in good health and are finding positive ways to manage stress levels amid this ongoing pandemic.
Unfortunately, this update is to notify you that the office will remained closed through the month of May. Massage Therapists have not been included in any of the re-opening phases that were announced for this month. Therefore, I cannot legally resume massage therapy services. At this point in time, I do not know when the State of New Hampshire will allow Massage Therapists to re-open, but assume by the end of May there will be another update given by the governor. My hope is that Massage Therapists will be able to work on clients sometime in June. Should news of a re-opening date come to light sooner than the end of May, I will share that information with you.
Please keep in mind that when the State does establish a re-opening date, the likelihood is great that I will have to comply with state mandated restrictions and/or precautions. These may include the requirement of masks to be worn and the restriction of clients waiting inside the office for their appointment, just to name a few. There also are other factors that I will have to consider before I can announce a re-opening date that I am comfortable with, regardless of one set forth by the State. One of the issues that I'm encountering is securing enough cleansers for the foreseeable future. I need to have enough hand sanitizer and disinfectants stocked in the office to ensure proper sanitation in between every client. This is proving to be very difficult as these items are out of stock, back ordered or being price gouged. I simply will not re-open without an adequate supply.
I'm saddened and frustrated about the uncertainty that this message conveys. I know so many of you depend on the therapeutic effects of massage to cope with physical pain and mental stress. However, my hope is that you have an appreciation for the high ethical standards I uphold, and that is what will guide me to a re-opening date that ensures I can conduct my services in the safest environment possible.
I will not be reaching out to clients to reschedule their appointments for at least 2 weeks. My reasoning for this is to allow some time for updates from the State (if any) and updates on backordered supplies, which may provide a more accurate timeline for re-opening. I appreciate your patience, understanding and look forward to the day I can resume business. In the meantime stay safe, make time for yourself to de-stress and enjoy the beautiful Spring weather!

3/30/2020
**OFFICE IS CLOSED THROUGH MAY 3RD**
Ascending Hands Massage will remain closed through May 3rd.
All appointments will be canceled through May 3rd.
*ANY CLIENT THAT HAS AN APPOINTMENT FOR 5/4 OR LATER WILL REMAIN ON THE SCHEDULE.
*ANY CLIENT THAT DOES NOT HAVE AN APPOINTMENT SCHEDULED FOR 5/4 OR LATER, WILL BE CONTACTED BY 5/1 TO DETERMINE WHEN ANOTHER APPOINTMENT CAN BE SCHEDULED.
I appreciate all the words of support that I have received from so many of my clients. I look forward to resuming work on May 4th, but know that State and Federal guidelines may prolong this opening. I will continue to update this page with any changes.
Thank you,
Krista

3/19/2020
**OFFICE IS CLOSED through April 1st**
It is with a a very heavy heart that I've made the decision to close the office, effective immediately through April 1st. I never could've imagined that this is how I would commemorate the anniversary of opening 5 years ago. The past few days have been emotionally draining. I honestly feel like I did my best to keep my practice operating in the safest way possible, as the demand for massage therapy was and still is there. With each passing day, the news of the spread of COVID-19 worsens. The only way I can 100% guarantee that clients couldn't contract COVID-19 (and subsequently spread) is to temporarily shut down. I feel like re-opening April 2nd is hopelessly optimistic, but I cannot think beyond that right now. Any clients that are on the schedule 4/2 or later will remain on the books until further notice. Any clients effected by this closure that do not have a future appointment scheduled will be contacted by 4/1 to determine when another appointment can be rescheduled. Although there's uncertainty regarding a realistic opening, the one thing I am certain of is I have the most amazing, appreciative clients that WILL be back!! I pray for you to all remain healthy and calm throughout these enormously trying times.

3/16/2020
OFFICE IS OPEN. UPDATED POLICIES/PROCEDURES:
Disinfect all common areas between EACH CLIENT. These include "hot spots" such as door knobs, light switches, desk area, stylus pen and seating areas. (Previously to be done at the end of every shift.)
Any client that has traveled by plane or cruise (REGARDLESS OF LOCATION) within 14 days of their massage appointment MUST RESCHEDULE for anytime AFTER day 14. (Previously only travel to countries with LEVEL 3 Travel notice.)
Waived 24 HR cancellation policy/fee, if client simply wants to avoid contact. (Previously only waived 24 HR cancellation policy/fee for clients who had

COVID-19

symptoms, exposed to people with symptoms.)
3/15/2020
OFFICE IS OPEN. PLEASE READ THE ENTIRE FOLLOWING IMPORTANT MESSAGE.

To all of my valued clients and potential new clients,

I have been monitoring the Coronavirus (COVID-19) outbreak for the past few months and have been waiting for the right opportunity to provide a statement that is sincere, truthful, and rational, and not merely because it's the trending thing to do. The events that have unfolded in the area over this past week have indeed presented such an opportunity. I will get right to the point in answering the question of will Ascending Hands Massage close? The interim answer is NO. Unless there is a government mandate either on the national, state or local level, or other circumstances warrant a closure, I will continue to provide my services. The entire time COVID-19 has been in the news, my clients are keeping their appointments. They come in happy and grateful to be on my massage table, with very little talk of the situation. The only reason I'm not seeing clients is because my schedule is full and I simply have no appointments available to book. With this being said, please know that I proceed with caution in operating my business, and my clients health, as well as my own, are a priority during these trying times.

As a person who earns their income solely through human touch, I take the utmost pride in providing massage sessions in a safe and clean environment. For the past 14 years, I have upheld standard practice hygiene protocols including frequent, thorough hand washing (forearm & elbows included), and frequent cleaning of high contact surface areas. The cold and flu season always brings an added measure of caution to the office, but it's obvious that the outbreak of the Coronavirus (COVID-19) is unprecedented.

Please take comfort knowing the following hygienic procedures are currently in use to minimize any exposure of pathogens, including COVID-19, for both my clients and myself. This list is comprised of both standard and elevated protocols.

* Daily, at the end of every shift, high contact areas in both the treatment room and office are disinfected. These include "hot spots" such as door knobs, light switches, desk area, stylus pen, and seating areas.

* Disinfectant spray will be used on the face cradle and arm shelf IN BETWEEN EACH CLIENT.

* Clean linens are used for every client.

* Therapist hand & forearm (up to elbow) are thoroughly cleaned before and after every client. Hand sanitizer will be used prior to placing hands on client.

* If hand sanitizer is available, it will be placed in both the office and treatment rooms for client use. If this is not an option due to unavailability, clients can wash their hands with soap and water in the kitchenette if they feel inclined prior to or after massage session.


Furthermore I am requesting your cooperation in taking the following cautionary measures.

According to the CDC, Coronavirus (COVID-19) symptoms include fever, cough and shortness of breath, and may appear two to 14 days after exposure.
If you are experiencing these symptoms; have been exposed to people who have these symptoms; or have been around people who have traveled to any of the countries that have a Level 3 Travel Health Notice, it is IMPERATIVE that you contact the office to reschedule your appointment to a later date. Cancellation fees will be waived in this case, should you suddenly feel compromised. TRUST IS a reciprocal feeling between a massage therapist and a client on so many levels. I TRUST that while you hold my service in high regard and value, you also know that a massage can wait if the circumstances warrant it. In reciprocity, YOU CAN TRUST ME that if I find myself in a position where I am questioning exposure to COVID-19, I will 100% do what is deemed necessary to keep my clients, myself and my family safe. This concerted effort will help prevent the spread of the Coronavirus.
In addition, to the aforementioned scenarios, I completely understand if clients simply want to avoid contact and cancel altogether. If you feel more comfortable canceling for this reason, kindly give a 24 hr notice to avoid any fees.

This situation is fluid and ever evolving. It's important to stay informed through credible sources such as the US Centers for Disease Control and Prevention, https://www.cdc.gov/coronavirus/2019-ncov/, and the World Health Organization https://www.who.int/emergencies/diseases/novel-coronavirus-2019

If there are circumstances that change the operation of my business, I will convey that information to you promptly. It's bears keeping in mind that the office simply does not have a high volume of people flowing through at any given time. Three people is the maximum amount of clients I treat per shift. As we all continue to work, shop for food, etc. it is likely that you will have come in contact with surfaces that have been touched by more people than the 3 that have come through my office on the day of your appointment. The sanitary procedures that I use prior to placing my hands on your body, can ease the concern of spreading between therapist and client. For the time being, I honestly look forward to business as usual, which is uplifting your body and mind to greater wellness. I look forward to seeing you!
P.S. What I look forward to more than seeing you, is taking down this page when Coronavirus is a thing of the past ;) Stay strong & be kind during this unprecedented time!